These Ritetemp thermostats work with Zoned Hot Water or Forced Air Systems - ALL LOW voltage 60XX series
Refer to the guide below for system details.
24VAC ZONED FORCED AIR HEATING AND COOLING 6 WIRE (main)
The drawing below is a forced air, zoned, heating and cooling system with remote thermostats for different areas. The master control unit opens and closes baffles in the forced air system to open an area or close an area for either heating or cooling. This allows different areas of the house to be at different temperatures as a function of the areas own thermostat using a single HVAC system.
The selection of HEATING or COOLING is made by the master controller. If the customer wishes to use programmable thermostats at the remotes, they must remember to switch the remotes from HEAT to COOL whenever they switch the main thermostat from HEAT to COOL. This is because the heating and cooling programs are different.
Some forced air zoned systems master controllers use both B and O for changing from HEAT to COOL and some use just one of the letters, B or O. Be sure it is a gas forced air zoned system before connecting both O and B.
Some of the names of forced air zoned heating are Durazone, Trol-a-temp.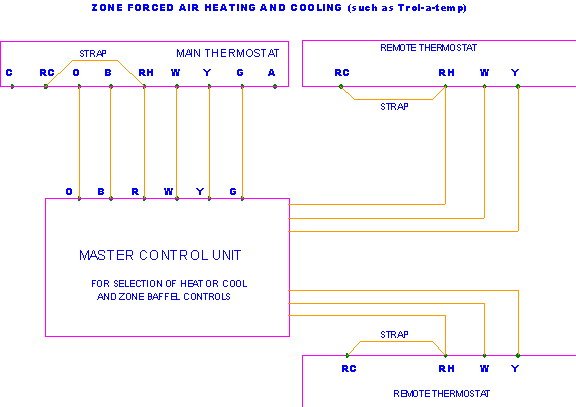 NOTE: Be sure your system is not a heat pump before connecting O and B. Connecting both O and B in a heat pump, can cause damage to the HVAC system.
ZONE HOT WATER HEATING SYSTEMS (3 wires to thermostat)
The drawing below is a zoned hot water system that uses a 3 wire thermostat control system to open and close a motor driven valve.
NOTE: If a hot water system has just two wires, connect it as a standard 2 wire heating system between RH and W. See Pg.6 of the Professional Ref Guide.
ROTARY VALVE
NOTE: If your Ritetemp thermostat does not have an A terminal, call the Ritetemp help line at 888 515-2585 for further information and help.
When the thermostat requests heat, RH connects to W and the motor controlled valve opens. When the thermostat requests the heat go off, the RH to W connection opens and the RH to A connects and closes the valve. Each valve has a switch to turn the boiler on and off so the boiler can be turned on by any zones rotary switch.
SOLENOID VALVES (note reverse wiring from rotary connections)
When heat is not requested, RH is connected to A and holds the solenoid valve in the OFF position. When heat is requested, RH disconnects from A which lets the solenoid go and its spring opens the valve. At the same time, RH connects to W and turns on the boiler. Any zone's thermostat can turn on the boiler.
Rotary Solenoid